The Contributor Tab can be found in a title's record. Navigate to Title Manager / Books and then select a title and here you will find the Contributor Tab is the second one to appear on the top.
Contributors are all of the individuals involved in producing a book's content, such as the author, the editor of a collection of material, the photographer, etc. Two subtabs will come up as per the image below.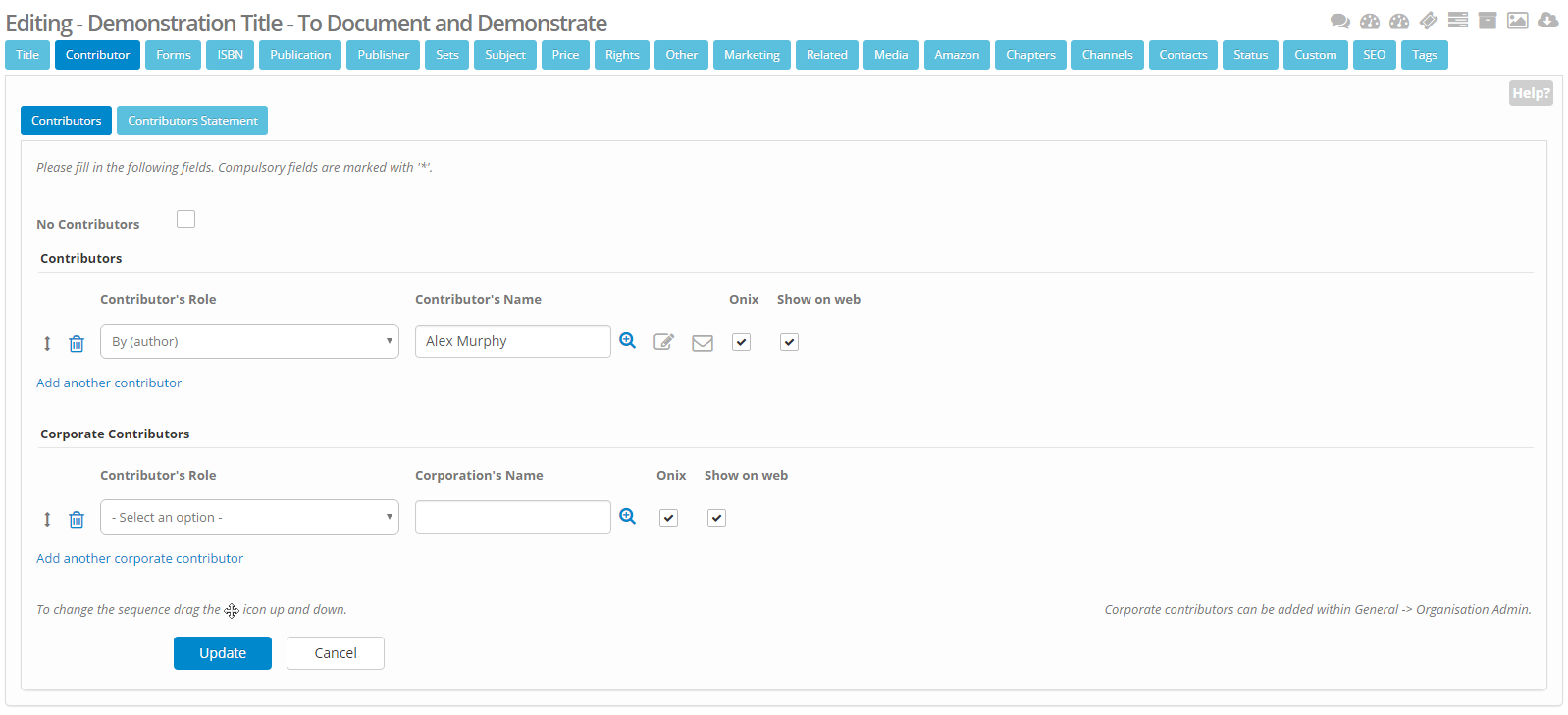 The first tab allows you to enter details about the contributors to the title.
* Contributor's Role: First you must define the contributor's role. If the contributor is an author, for instance, then you will click on By(author) in the drop-down menu.
* Contributor's Name: Click on the blank field to access the full list of contributor names already on the system. Choose the appropriate contributor.
If the relevant contributor does not already appear in the list, then you will need to add the name to the system. See the section on Contributors for adding a new entry.
Onix: Tick this item if the contributor record should be sent in ONIX feeds.
Show on Web: Tick this item if the record should be visible on the web (for web feeds).
Contributor Role Desc: (optional) If sending to the web, this item allows you to customise the role further.
To change the sequence of the contributor names, drag the arrow icon up and down.
To delete a contributor, click on the bin icon.
To add another contributor, click on Add another contributor and follow the instructions as written above.
Corporate Contributors: This works in much the same way as the contributors, as described above. This opens up the following tabs:
Adding a new Corporate contributor is done under Contacts > Organisation Admin.
Once the Contributors are added, you can click Update and move onto the Contributors Statement Tab
Copy Biographical Note: By clicking on the contributor names, the biographical notes against their names will appear in the Biographical Note box below. You can then adjust the text where necessary.
Contributors Statement: (optional) The Contributor Statement is a way to indicate how you want names displayed in an eCatalogue. If this element is left blank, the names will be assembled from the contributor names and roles, but this element gives you more control.
eg: Written and illustrated by Fred and Emily Jackson.
Biographical Note: This is a single statement that is relevant to the authors of a particular book but it does not replace the individual author biographical notes. It will be used in preference to the author bios if it exists - for instance in AIs generated for this particular title.
Click Update to save your changes. Once you are finished working in the main Contributor tab, move into the Forms tab.