The quickest way to present your books in a slideshow mode is to hover above the section of the page where you wish it to go, click on "+" or "edit", and a new window will pop up. Select the Bookshelf/book list block from the Available blocks drop down menu:
Select the relevant button depending on where you want to see this block: Show on every page, Show on the current page only, or Share across many pages.
Add the Block heading, check the Published box, and select from Block sizing options. 
Now determine a size of your Slider Duration (5 seconds is the default duration) and tick the box Autostart if you want the Slideshow to start automatically.
You can filter your Bookshelf by clicking on the relevant button: Current page (book id/subject id/series id), Filter Options, or Featured book list.
When Featured book list is chosen, an additional Select an featured book list drop-down menu will pop up: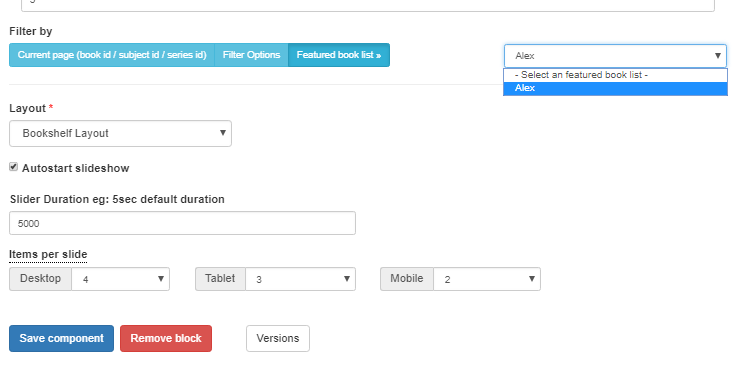 This drop down menu is populated with featured book lists you have already created in the Stison Site Admin/ Featured titles.
Select the Layout from the drop-down menu. 
Finally select how many Items per slide you wish to show on a Desktop, a Tablet and a Mobile.