Html content block is a block that can contain formatted html. You can add text, images, a PDF document (if you want to upload for example a book catalogue), etc. This is the most common block. Hover above a section you want to add your Html content block and click "+" sign.  A new window will pop up - choose "Html Content" from the drop down menu:
Click on the appropriate blue button depending if you wish your list to Show on every page, Show on the current page only or Share across many pages.
Type in the Block heading and tick the Published box if you want to make it visible on your page.
Choose your block size option.
Content - This block is giving you an option to add a text in different formats, layouts, to insert files, images or documents.
Before trying to add an image or a PDF document to your page, make sure you uploaded the images on Site admin > Images / Media & the documents to Site Admin > Documents.
To add a document click on Documents button and a new window will pop up: Click on Browse documents tab and chose a document from your file in Site Admin. If you want to use an image click on the image symbol.
To make your word, text or an image "clickable" that is connected to a link that takes to another page, select the word, text or image and click on the link symbol (marked with the red circle below, in the example an image is selected ) and add a link: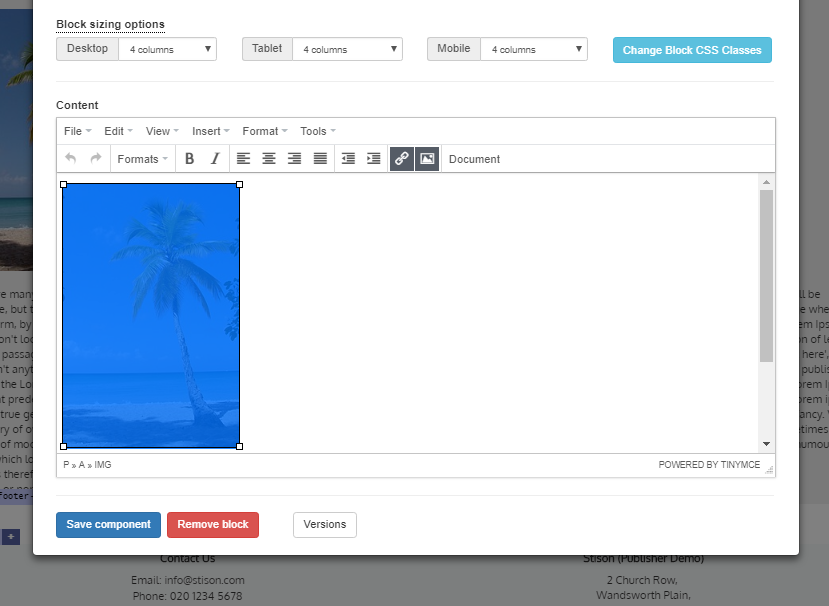 Click Save component when finished.
If you want to embed an iframe or script use a text component instead (or as well). Remember you can mix components of different types on a page.