Slideshow block is a slide show of images usually at the top of a "home" web page, in the example below it is added to the section content-2. Hover above a section where you want to add your Slideshow and click on the "+" sign. A pop-up window will show up: choose Slideshow from the drop-down menu (remember that if you don't see this option just click on show more options and choose again) and new fields will show up.
Choose weather you want your Slideshow to Show on every page, Show on the current page only or Share across many pages and click an appropriate blue button.
Add a Block heading if needed and tick Published box if you want your slideshow to be visible on your page: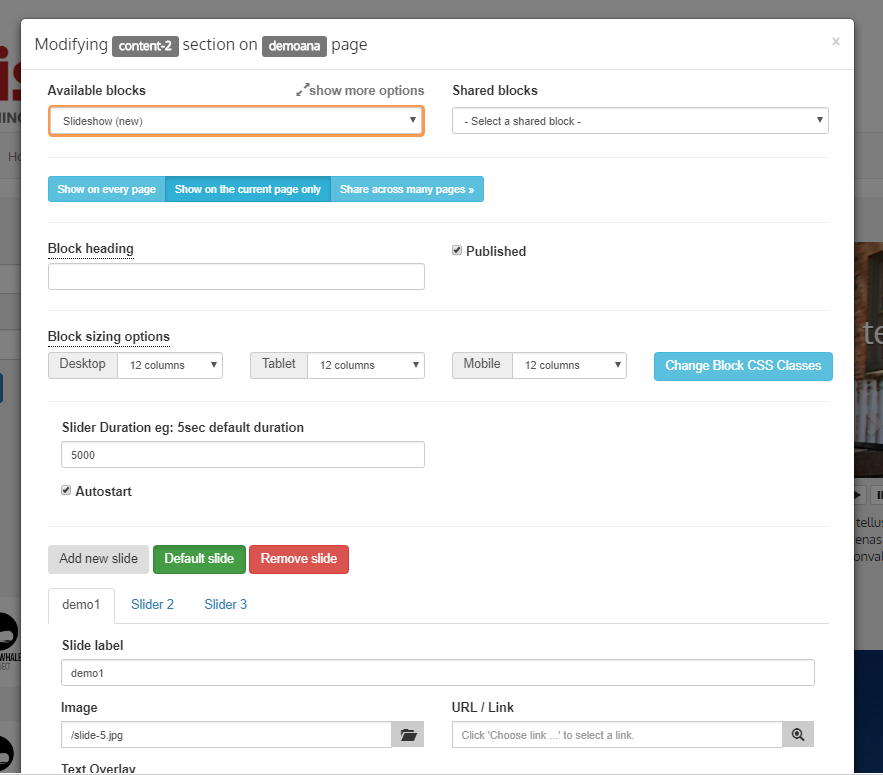 Now determine a size of your Slideshow and type in the Slider Duration (5 seconds is the default duration)
Tick the box Autostart if you want the Slideshow to start automatically.
To add a slide click on grey Add new slide button:
Type in Slide label, for ease of admin, then click on Image (Browse folders) and you will be able to choose a slide from a folder you uploaded on Stison admin: Web admin > Images / Media. You can click on URL/Link to choose a link or a title from your Title Manager. You can also add Text Overlay that will be displayed over the chosen slide.  To add another slide click again on the grey Add new slide button. To set the Default slide just click the green Default slide button when the tab where the slide you wish to set as a default is open. To remove a slide click on the red Remove slide button when the tab where the slide you wish to remove is open.
Once you finished click the blue Save component button and your Slideshow should be visible on your web page.
NOTE: Images can take up to 15 minutes to sync from the admin server to the web server if you have separate servers hosting the admin and the web site.