To organise your Book list on your web page choose Book List block. Book List block will transfer easily and quickly the book list from your Title Manager on your page where then you can use filters to display books you wish to see on your page.  It will transfer the list together with an image, synopsis and price you already entered in the Title Manager.
Hover above the section you wish your list to be displayed and click on the "+" symbol, a new window will pop up- choose Book list from the drop down menu of Available blocks:
Click on the appropriate blue button depending if you wish your list to Show on every page, Show on the current page only or Share across many pages.
Type in the Block heading and tick the Published box if you want to make it visible on your page.
Choose your block size options.
Choose your Layout from the drop down menu.
Choose your Default mode  from the drop down menu. You can chose that the mode can be switched from Grid to List, by clicking on the grid or list symbol on your web page, but one will be the default. Or you can choose to display your book list only in grid or only in list mode.
Tick the boxes depending which book info you want to show in each mode.
 Click on Filter options tab to filter what will be seen on your web page (marked with red circle in the image below)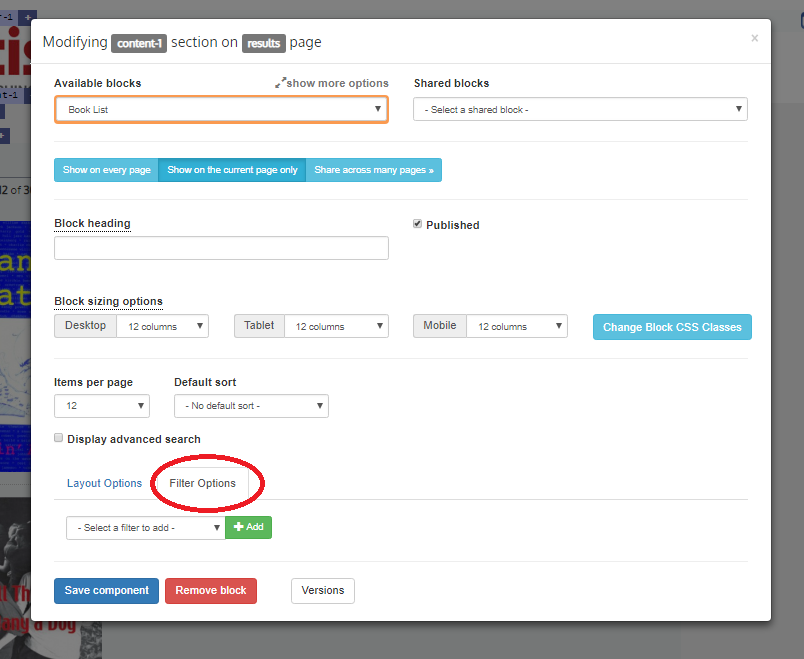 Choose your filter from the drop down menu and click on green +Add button. You can choose as many filters as you want- every time you press the green +Add button, the chosen filter will show up on the screen with its own drop down menu:
Choose options for your selected filters from drop down menus: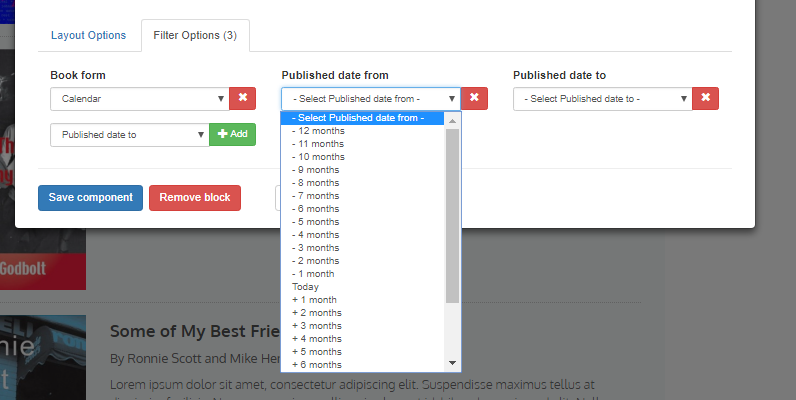 In this way you can display on your web page books by date range, by categorisation, you can display promotions etc. To remove a filter just click on the red "x" sign next to the filter.
When finished click on Save component button.