The next screen is Costs with 3 sub-tabs, here you can fill in all the details about anticipated costs regarding the proposal:
First you need to choose your Cost Schedule from the drop down menu. And then you can add Number Of Pages and a cost per a page and Cost Calculator will sum it up.
Fill in information about your Fixed costs, Marketing costs, ...
You can choose from the drop down menu the Type of cost weather it is printing, design, shipping etc.
To add another cost just click on the blue Add another cost.
When finished click the Update tab.
In the next sub-tab you can fill in information about Advances and Royalties: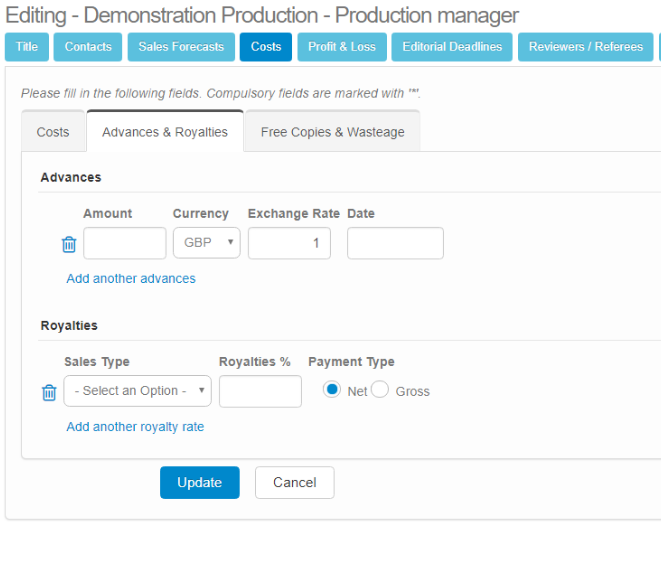 Just simply fill in the empty fields.  For Advances add Amount, select a Currency, enter the correct Exchange Rate and Date.  To add more advances, click on Add another advances.
For Royalties choose a Sales Type from the drop down menu, add Royalties % and check on the right circle for the Payment Type depending weather the royalty percentage is counted from Net or Gross sales. To add more royalties click on Add another royalty rate. 
The royalties calculation is intended for rough P&L so doesn't include escalation at the moment.
To delete a row, click on the bin symbol to the left of the row you wish to delete. 
Click Update when finished.
---
This section also has the space for information about Free copies and Wastage:
Just fill in the number of free copies you are planning to give away and the anticipated wastage.
When finished click on the Update tab.
All this info along with Sales Forecasts will be then visible on Profit and Loss screen which is the next tab.