When you are finished filling in the Title tab, you will be ready to move to the next section of Pre-Production: Contacts, as shown below...
Top Tip:
If you have established workflows on your system, then the tabs may be different for you or your colleagues. For our purposes now, we will show you all possible tabs available on the system, starting first with Contacts.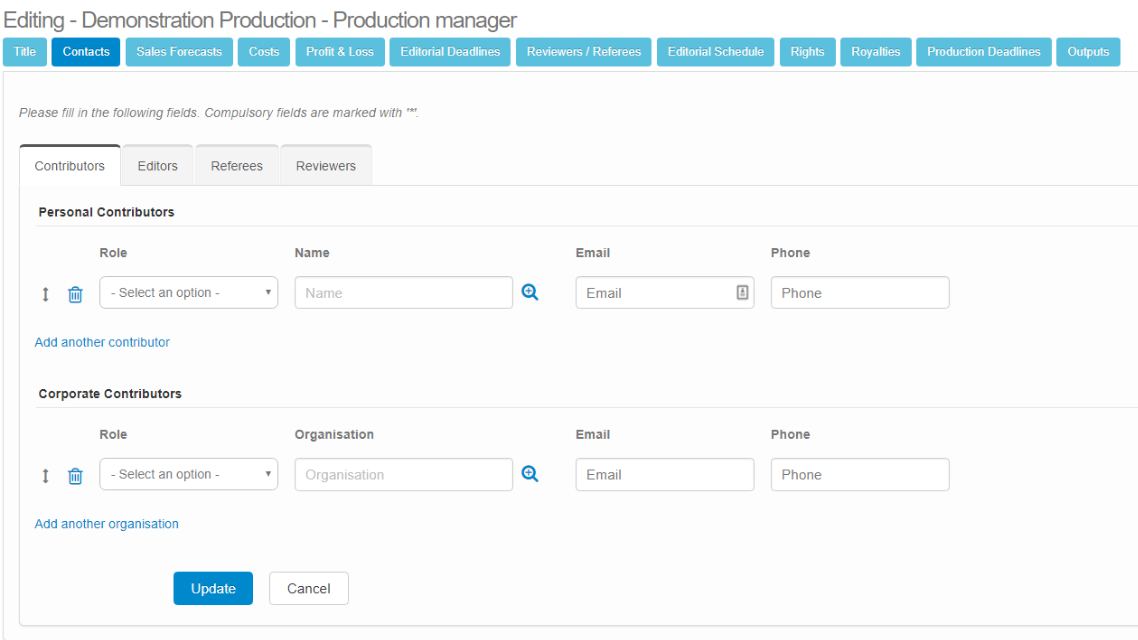 The information available here is organised into 4 further sub tabs: Contributors, Editors, Referees and References. This is a place where you can keep a record of all of the people involved in the pre-production of a title.
The first tab enables you to add the contact information of your Contributors, both personal and corporate. To add another Personal Contributor, click on Add another contributor. To add another organisation, that is a Corporate Contributor, click on Add another organisation. To delete any row, just click on the bin symbol in front of the row you wish to delete.
Now you can add your Editors. You can mark an editor as the primary editor if you click on the circle on the right side:
You will then add your Referees and Reviewers in the same way. Please note that you will make use of this in a way that suits/benefits your ideas. If you do not have a referee, or a reviewer for the idea you've added, then you will leave these parts blank.
After each section, click on Update to save the added info.
Once you're done here, you are ready to move onto the next step: adding a sales forecast.