Production scheduling is a gantt chart of dates within production. You can filter permissions so users can drag tasks dates & change durations. The chart is small so that you can see many titles at once.
Please note as well that this has been separated from the file of available reports and placed as its own main item on the Production Manager menu because it is a key report.
Now that you have created your production tasks, set the deadlines, set colours for your tasks and editors, and filled in the appropriate details for each title on your production list, you can now have a look at the schedule for books or any particular book:
Please note that if you cannot see a title on this chart, but you have indeed added it to your Production module, you will need to check the dates in your schedule. If the start date is outside of the default dates, then it will not appear on the chart.
You can set how you want to see the Production Schedule by setting the filters, and you can filter the view by All imprints or individual, by All departments or separate (Design, Editorial, Production), All Titles or individual, New Titles or Reprints, All designers or individual, All editors or individual or All Controllers or individual.
The legend colours are also active filters. To filter to "PDF to Press" for instance, click on the yellow box in the legend. You can select multiple legens to show more than one legend/task at a time.
To adjust the dates, click on the From and To fields on the top of the screen and adjust accordingly. If you want to look at the production schedule for a single book, rather than your complete list of titles, then type in the title name in the search box at the top of the screen and click Go button, and the information will be displayed for you.
Select the relevant item at the top of the page and you can view the information displayed either by Days, Weeks or Months.
Ordered by Publication date, Production date or Print date.
It can be coloured by User or by Task and you can see it in Detail as on the image above or in Summary as on the image below: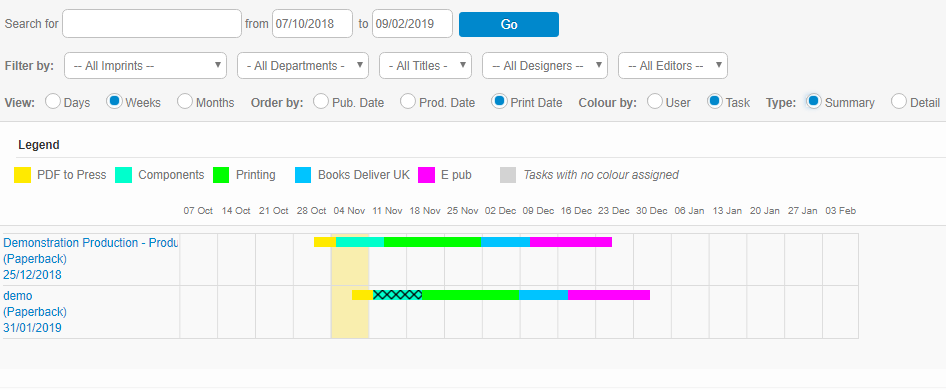 The legend at the top of the screen provides details about the colours and which tasks or users they correspond with for quick reference.
Clicking on a title name within the list on this screen takes you to the tabs within Book Production. You can make amendments if necessary.
You can mark a task Completed or change the Assignee or Add notes by clicking on the coloured tasks within the Schedule:
Check the Set this task to Complete and the task will be crossed out like this: