The Production status area of your Stison system enables you to create publisher-specific statuses for use in your Pre-Production module. The concept is to provide more information about the state of the product at a glance. The statuses can be grouped together to create workflows if you are using Pre-Production Workflows.
By selecting Production Status from the main Production Admin menu, you will be taken to a screen where your Statuses will be displayed in list form as you add them. Below is an image of this part of the system with several example production statuses. When you are beginning to populate this area, it will be empty at first.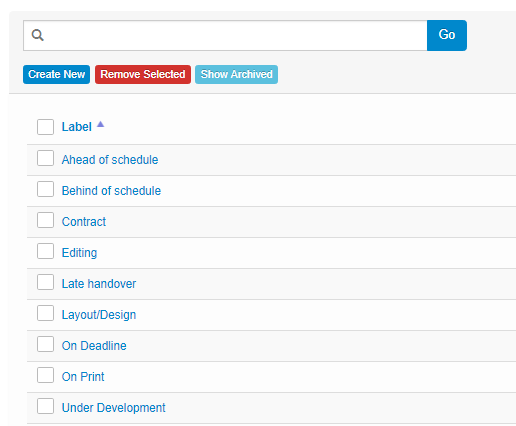 You can create as many statuses as you need by repeating the instructions below.
1) Click on Create New first.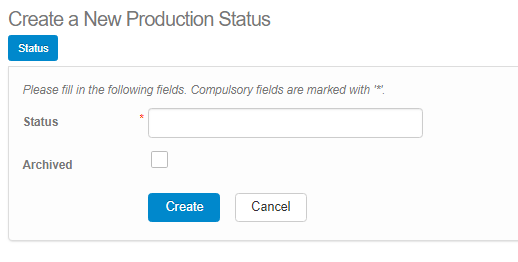 2) Give a name to your status
3) Click Create to save it.
Now your production status is visible on the main Production statuses list.
Please note that statuses in the Book Production module are hard wired to the system and therefore are not added via Pre Production statuses.
Once you've completed all the statuses you will use in Pre Production, you are ready to move onto the next step: adding a project to Pre Production.
Further Information:
If you want to archive a status, tick the Archived box. Though archiving the item does not remove it from your system, it ensures the item is not available to select within the drop-down menus.
Clicking on Show Archived in list view will enable you to see your archived statuses.
To remove a status from the system, click on the box beside the name within the main Production Status page and then on Remove selected: