The onix pre-flight tool is designed to review your entire catalogue of titles that, either have included in onix set. There are a couple of checks that will look for titles that are nearing publication date but not yet included in Onix. It separates the fields into three lists, partially based on Nielsen Book Data's requirements.
The headings for the lists are: Mandatory, Non-mandatory and Integrity Checks. Beside each item listed is a number within brackets. If the number is 0, then there is no problem. If the number is greater than 0, then you have titles that are missing that information.
Click on View and a list of the titles missing the information will be displayed. Click on them each individually to update the data. The system will open a new window at the relevant tab in the title  where this data should be updated. Should you have titles that will permanently fail aspects of the Pre-flight report they can be marked as excluded. Any items that have excluded titles will show a count of this.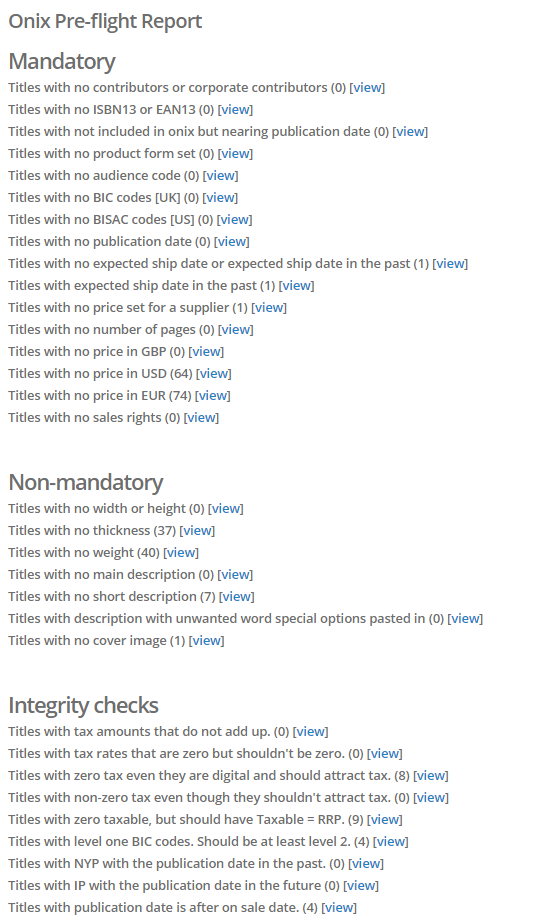 It is good practice to check this part of the system every month or indeed immediately after you add a new title to the system to make sure all is correct. It's much easier to correct mistakes as you go along rather than going back at the end of several months and having to update information for many titles at one time.