It is possible within the system to bulk upload your contributor details. This can be done by following the steps listed below.
1. Navigate to Contacts in the main left-hand menu of your system.
2. Click onto the second occurrence of Contacts.
You should then click the upload button on the top right-hand side of the screen.
Step 1, choose the file to upload. Select an xls, csv or text file. Please note that the system will not upload xlsx files.
Step 2, adjust the mapping. Each column heading in blue is clickable to change the column mapping. Choose "ignore this column" if you do not wish for the information in a particular column to be uploaded.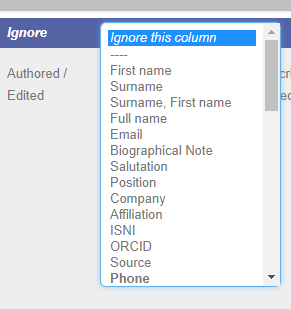 Be sure to choose the correct encoding. Windows will generally work with Windows 1252.
When you are happy with the mapping, click the "Process File" button. Your contributor information should be on your system now. Go back into each item and click on the 'contributor' button so that the information will link through to the contributor tab in a title record.