Production workflows can be used to create a flow for a title in production. It is a way to limit what statuses are available as the next point in the production process. Production workflows also allow the publisher to limit access by group on who is allowed to change the status of the project.
Selecting Production Workflow from the Production Admin menu you will be taken to the new screen where you can see the list of your production statuses and where you can create new ones: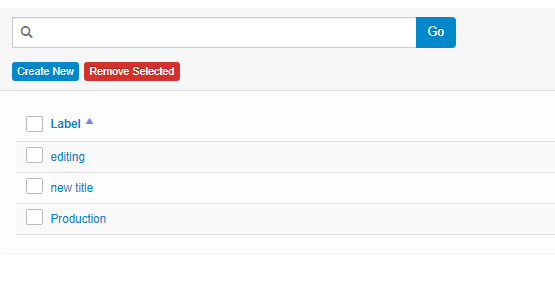 These statuses, which will help you to organise, delegate and monitor your production with more efficiency,  will then pop up on the screen for you to select one when setting up a new title in Pre-production:
To create a new Production Workflow click on Create New and you will be taken to a new screen:
Give a name to your production status in the Workflow Name field, for example New Title, Reprint etc. Select a Status from the drop down menu populated with statuses you have already set up.
Select Tabs you wish to see in the Pre-production, for example if you selected 3 tabs, 3 will be visible:
Select next allowed statuses from the drop down menu in Allowed Next Stati select member of your team you want to be Notified select groups that can change this status in Edit Groups, select Production Meeting type and check the box Contracted if correct. 
Click Create button when finished.