This is the tab where you can add all the additional information about your title, such as further details about illustrations, prizes, descriptions, reviews and more.
When you click on the Other tab, you will be taken to this screen: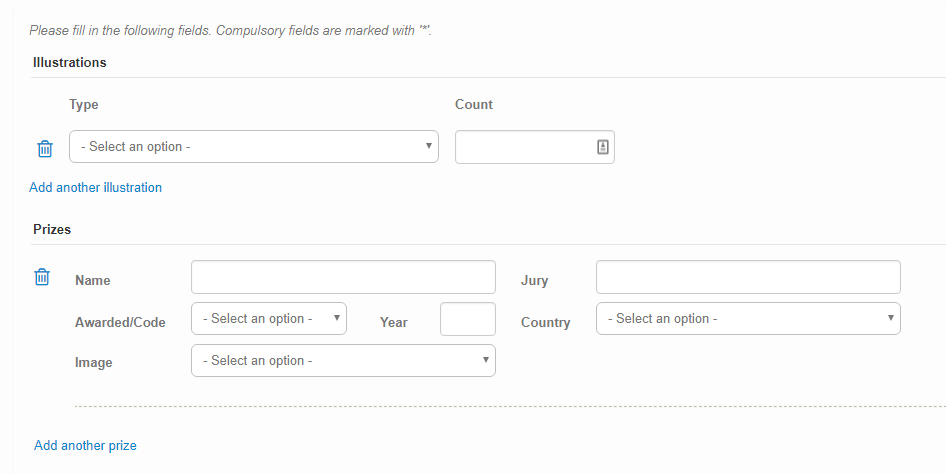 Illustrations: Select a Type from the drop-down menu, and then enter the number of illustrations in the field beside it called: Count. You can add as many types of illustrations as your title has by just clicking on Add another illustration

. Eg: 20 colour illustrations, 35 B&W illustrations.

Prizes - Here you can enter info about the prizes your title has won or been shortlisted for. Type in the Name of the prize and Jury. Choose Awarded/Code from the drop down menu. Type in the year when the prize was won and select a Country of the prize from the drop down menu. You can add an image that is related to this prize by choosing from the drop-down menu. These items are added to your system via Web Management > Images / Media

.

Add as many prizes as needed by clicking on Add another prize

.

Other Text - You can add text such as a main description, a short description, a biographical note, promotional text, key selling points etc. Please note that best practice is to include both a long and short description of your texts for the various bibliographic data agencies that you will be feeding your data to.
Choose the kind of text you want to add from the drop-down menu, as shown below:
Add as many text fields as you need by clicking Add another text field set.
To delete a text, click on the bin symbol.
When on the Reviews sub-tab, you will be shown a filtered list of review-based descriptive texts. Reviews have additional data that can be entered here such as author, source title & publication date:
Select a Name (type) of your review from the drop-down menu. e.g.: "Review quote"
Text Source Title is the title of the publication that carried the review, e.g.: Evening Standard
Text Author is the author of the text, e.g.: Dr Fred Marco, Assistant Professor.
Publication Date the date of publication of the review.
To add another review just click on Add another text field set.
To copy reviews to another document, such as an email, click on the blue copy sign on the right: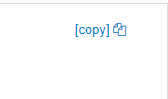 When you are finished, click on the Update button so that your newly added information is saved.