Production Deadlines shows the assignable tasks with dates for the current project/schedule. Costs & notes may also be added against tasks from within the deadlines screen.
When you click on the Production Deadlines tab, a screen similar to this will show:
First select a Production Label. The production label indicates the production name for the schedule/project. For instance the first label may be "initial print run", the next being "1st reprint", etc. It is intended to simplify projects administration on a book. 
Check the boxes to mark if you want the task to show on the Check List, check if this is a Reprint. If you with to change the sequence of this project you can edit the number within the project sequence (it is 2 on the image above). The project number will auto increment but you may adjust if required.
Archived box is simply to move the schedule out of the normal list view. So if you have finished working a project you may archive it.
Choose your Editor, Designer, Controller and Status from the drop down menus and add a Status note in the blank field. 
The system will default the schedule template, you may set the Applied Schedule from the drop down menu on the right hand side.
Depending on the chosen Schedule a list of tasks & durations will apply. When you set a Start Date for the first task the system will ask you if you wish to automatically update subsequent dates for the next tasks:
You can also enter the dates manually.  
Fill in Estimated Cost, Actual Cost and choose a member of your team to be an Assignee.
Tick the complete box when the task is Completed.
You can modify the schedules tasks, task duration & task dependencies by clicking on Edit All in the right hand corner:
This can be used to modify the tasks assigned, their duration & the task dependencies on this production project (it does not edit the schedule template). When you click Edit All a new window will pop up where you can edit your schedule:
Clicking on a notes symbol at the end of each row you can view or add notes, select a Note type from the drop down menu, type in a note and click Add when finished: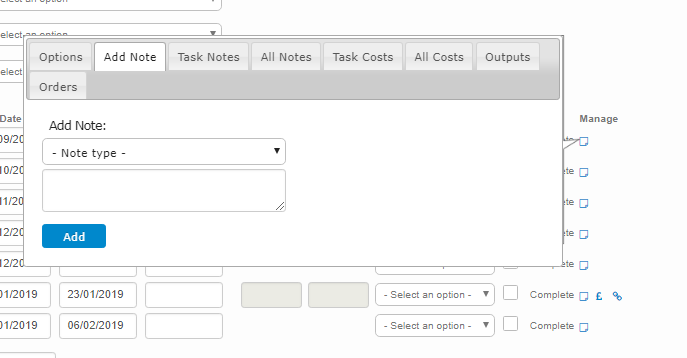 If there is a £ symbol that means that task is also a cost and you can add details about the cost:
If the task has Outputs there will be a chain symbol next to it where you can view and add new  outputs by clicking on Create New Output:
Set the Target Publication Date and add any Comments you might have.
When finished click the Update tab.
You can create new production deadlines by clicking on New tab:
When finished click the Update tab.